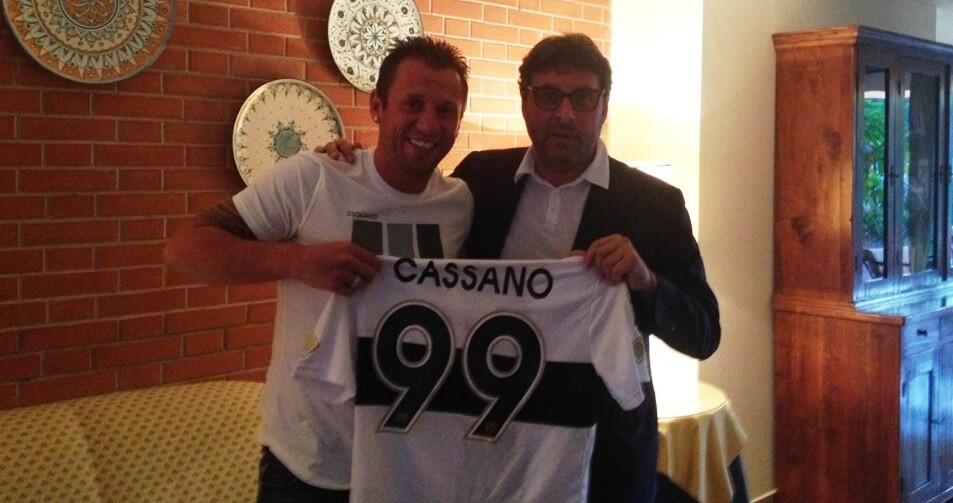 It's official: Antonio Cassano will play for Parma next season. And good for him. Parma's a lovely city with perhaps the best Italian food north of Napoli, and we all know that's an important consideration for Antonio. They'll love him there, too -- it's been awhile since that club has had a true world-class superstar player, faded though this one may be.
I certainly understand the thinking behind the move. Although he was better behaved at Inter than he has been anywhere else, Cassano is clearly an annoying person to be around for extended periods of time. Except for Bari, Cassano has left behind bad blood at every club he's played for, and let's not forget he had to be physically separated from our last coach in a locker room brawl. And more importantly, Cassano is 31 and has had some serious health scares over the past few years -- the last thing this team needs is another aging player whose body could give out at any moment.
But I can't say I'm happy about this. Despite missing a good chunk of the season through injury and often running out of juice well before 90 minutes were up, he more than exceeded expectations in his time here. 7 goals and 15 assists are nothing to sneeze at, particularly in a season where chances were hard to come by and everything else went wrong with great regularity. MAD often talks about the way certain players are fouled out of respect, and Cassano got more "respect fouls" than anyone this season. Like a great poker player, you just never knew what Cassano had in mind when he got on the ball. He might have been bluffing, and he might have been ready to unleash hellfire upon the penalty area, but opposing players always knew he might be up to something, and the sense of unease that creates in other teams' defenses can often be the key to unlocking them. With Cassano out of the picture, we really don't have a player with that intangible ability left on the team.
And more than that, there were so many matches last season where Cassano was the only one on the pitch with a smile on his face. It takes all types to make a team: the snarling, aggressive destroyers, the calm, Zen-like orchestrators, the shit-talking irritants, the steely head-down worker bees. But there should always be a place for childlike ingenuity and fun. It's not just that it's more enjoyable to watch that way -- though let's be honest, there's a reason all of us spend hours in which we could be writing novels or trying to prove the Tijdeman-Zagier Conjecture watching and talking about football, and it's not because we love analyzing the intricacies of debt financing or zonal marking -- but also that so much of what makes football football comes from inspired screwing around. I don't know who was the first person to ever try a backheel, or to execute the first scissor-kick, the first rabona, the first rainbow-kick, but they certainly didn't do it because it was the most straightforward and rational way to win a football match. They did it because it seemed like fun, and because they didn't mind looking stupid if it didn't come off.
Cassano is part of that dying breed of gloriously irresponsible footballing maniacs, and the sport is poorer for their growing absence.
Asked why he turned down three different transfer offers from Juventus over his career, Cassano explained: "They just want little soldiers there, people who go straight down the tracks. Sometimes I have to go to the left, to the right, wherever I feel like." It's tempting to speculate on the great player Cassano could have become if only he'd had more discipline and maturity, but that misses the point entirely. The lack of impulse-control that lead Cassano to gain 10 kilos of Nutella-weight over the summer or take off his pants mid-match is the flip-side of the spark that would lead him to swing an impossible cross right onto a teammate's forehead in a crowd, or curl a shot into the top corner where a backpass would have been more prudent. You can't separate them. A Cassano without the cassanate is no Cassano at all, and I'm glad he got the chance to write a small part in the history of our club, flaws and all.
For now, I guess I'll just have to hang up my replica Cassano Inter jersey in the closet next to my Pazzini Inter jersey and my Balotelli Inter jersey. Huh, I seem to be on a pretty bad streak here. I was planning on getting a Kovacic jersey for next season, but it's probably best to hold off on that for a while.